One of my first hat designs has been "retired" for several years now. It has always been one of my favorites, so I decided to give it a bit of a makeover. The Woven Braid Ski Hat was originally done in a bulky-weight self striping Noro yarn. It was worked flat, then joined into a cylinder with a 3 needle bind off.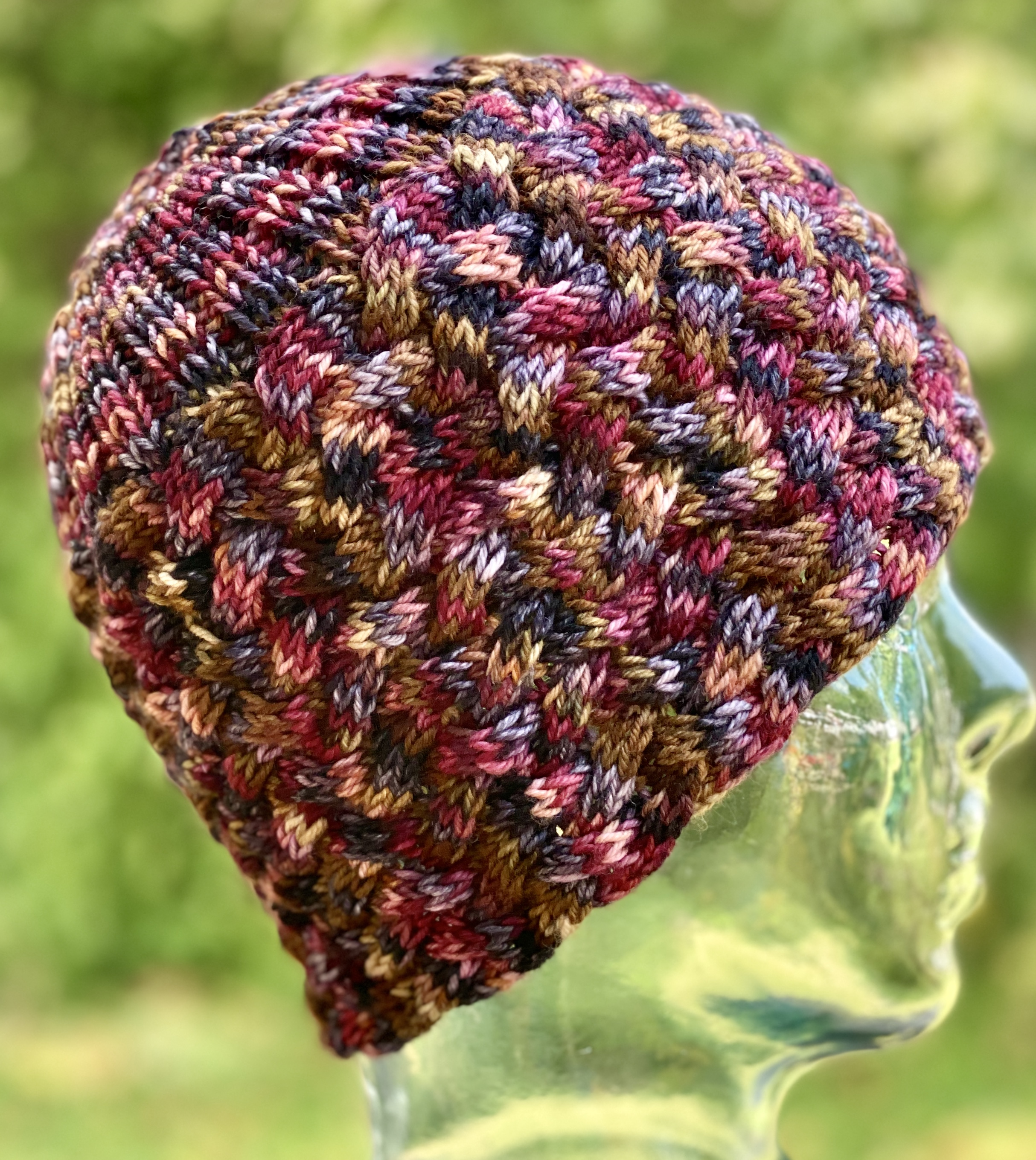 The new version of the Woven Braid Ski Hat is worked in DK-weight yarn, and begins with a provisional CO. Rather than joining with a 3 needle bind off, this new version is grafted together with a Kitchener stitch. If you don't like the provisional cast on, and prefer not to Kitchener, then you can still join with a 3 needle bind off. You will need to pick up stitches along the cast on edge if you choose this method.
The DK version of the Woven Braid Ski Hat is free for the next 10 days, or until September 25, 2020. This hat works very well with variegated yarn and with self striping yarn. I used Potion Yarns Temptress and the color is Anarchy in a Top Hat.
Fall Shawl KAL
The Fall Shawl KAL begins today. You should have received an invitation to join the KAL yesterday via email or Instagram. If you missed the invite, it is not too late to join! The KAL goes until December 15, 2020. You can knit any of my knitted shawls and earn a chance to win prizes by posting your finished project.
Join the KAL Browse the Shawl Patterns
Podcasts Anyone??
I had been on the hunt for some new knitting Podcasts/Vidcasts and I thought I would share a couple that I am really enjoying so that you can enjoy them too.
The Skeinz Diaries is a video podcast on YouTube by Marie Buscke of Skeinz Yarn in New Zealand. Marie has the perfect personality for a podcast, fun, informative, and real! She modifies almost everything she makes, and is not afraid to just k2tog if she ends up with the wrong amount of stitches, that is the real part.
Don't be afraid to shop at Skeinz just because they are from New Zealand. There prices are really good, especially with the exchange rate. You will have to pay for international shipping, but because the prices are so good, you will actually pay less than comparable yarns in the US. They are a combination of a manufacturer and retail. You should definitely check them out.
Flock Around the Table is another video podcast, and they are from a suburb of Indianapolis, so I feel like they are neighbors! They are just a trio of women who love to talk about knitting and yarn, food, and they are not afraid to be silly. I really have enjoyed this podcast, so I would invite you to watch too.
Two Sisters and Some Yarn are Amy and Denise from the New Orleans area. I hope they are missing the wrath of Hurricane Sally today! Even though they are a bit further away from me, they also feel like people that I would love to sit around and knit or crochet with! They are both multi-craftual, and you feel like you are in the craft room with them when you watch or listen.